6 Social Distancing Drills from Minnesota Hockey
For many coaches, the coming months present a unique situation, unlike anything they've faced before. We're seeing restricted time in the room with their players, limited opportunity to get face to face with their coaching staff and to top it off, modification of drills to become socially distant.
In support of this unusual time, we collaborated with our partners at Minnesota Hockey to provide some great resources to help you build your practice plans for the upcoming year.
As featured in the following video, the Minnesota Hockey Development Team highlighted 6 Social Distancing Drills that you can use in your team's practices. In addition to the video itself, we've publicized all 6 drills and made them available in our Drill Marketplace, so you can add them to your personal playbook, without having to spend time redrawing!
-----
Drill 1: Pittsburgh Scramble for 1/2 Ice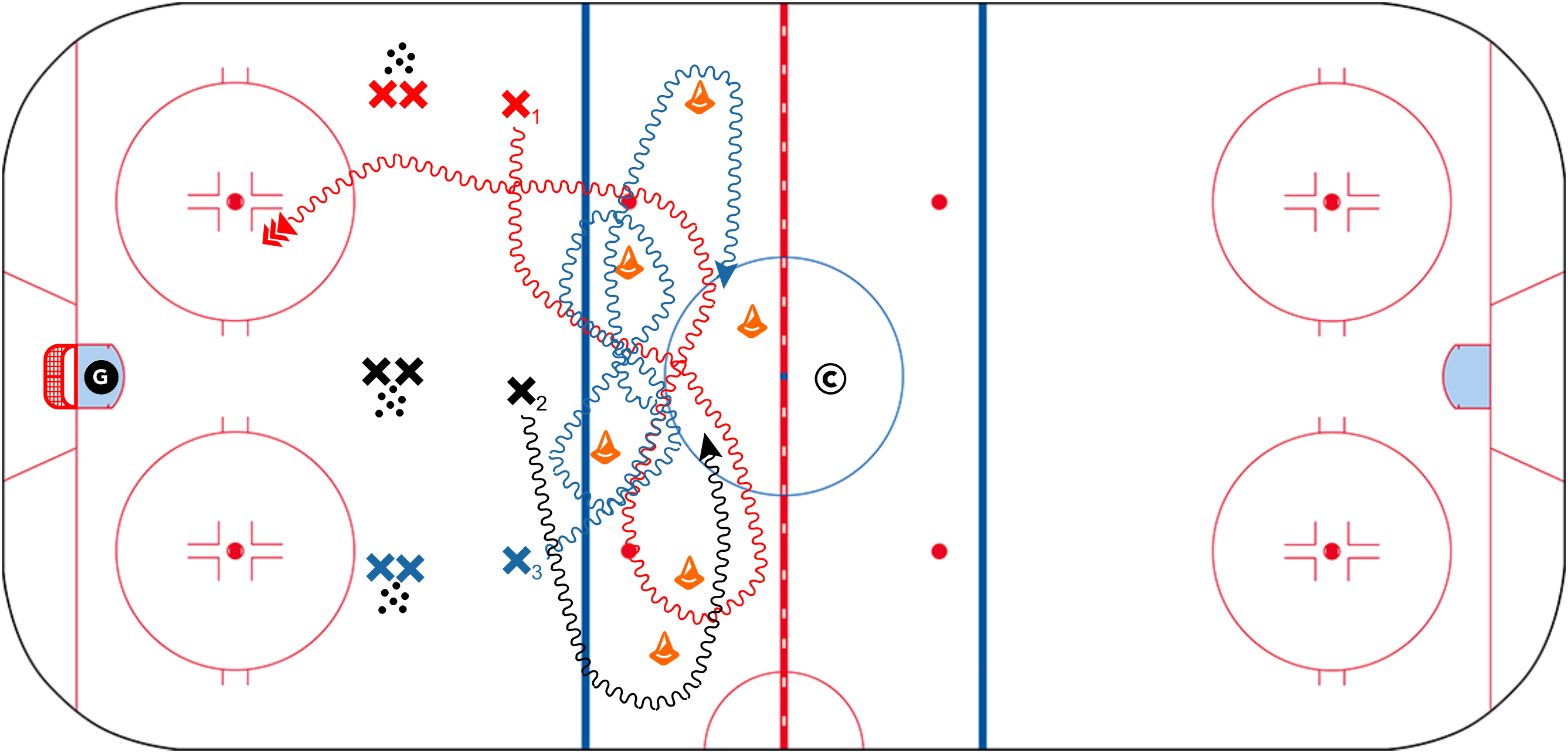 On whistle, first in each line skate between the blue and red with a puck - head up, stick handling the puck around cones and avoiding the other 2 players.

Coach skates in the NZ and applies light pressure to make sure players have heads up.

On first whistle, X1 skates out of NZ and back into the zone and shoots on net making sure to avoid the lines. On 2 quick whistles, X2 skates out of NZ back into the zone and shoots -> On 3 quick whistles, X3

does the same.

Finally, coach blows long whistle and the next 3 in line head into the NZ and stick handle around in the same space. If you have a goalie, very important to space your shots out.
Drill 2: Four Corner Give & Go
On whistle, first player in all four lines skates to the middle, dangles and then looks for another line for a give and go pass

Upon receiving the pass, they skate back to center and do it again until the next whistle, when the next player goes

Variation: Same idea, all four players go to the middle but this time they open up like getting a breakout pass
Drill 3: NZ Pass D-to-D Shot
Players X move within their area and pass amongst each other

On coaches command, pass to either player at the blue line, pass across (D-D) and take shot

Other two players go to net front for tip/screen/rebound. Players

O are resting; jump in and start as soon as the Xs get the puck to the net

Variations: You can have each player do a Bobby Orr Escape/open up before they make the pass to the next player
Drill 4: St Norbert Shooting Under Pressure
F1 shoots while being pressured and gently harassed by F2
F2 should shadow F1

with a good stick-on-puck mentality until they reach the slot, then the shot is taken

F2

goes around the circle accepts a pass (can be direct or indirect) from

F3

and shoots while being bothered

Drill is continuous
Drill 5: Bonz 1/2 Ice Breakout to 2-1
X2 passes to X1; X1 skates backwards below the goal line and makes D-D pass
X2 players support for break-out pass and regroup in the neutral zone with X3

players

X1 who started the drill follows up and plays 2 v 1
X4s are resting, they become X1 in the next rep. X1 -> X3. X2 -> X4. X3

becomes

X2

and begins new rep
Drill 6: Crosby Escapes Drill
X1

starts with puck,

O

shadows the play with good stick position, paying attention to not getting too close

X1

does 2-4 escapes toward the boards, keeping feet moving and eventually rolling out hard to the slot for a shot

Have sides alternate to make sure the goalie has time for each shot
As a CoachThem Pro subscriber, you can access all the above drills in our Marketplace folder and add them directly to your practice plan.
Be sure to check out the Minnesota Hockey Website for more great coaching resources!