CoachThem's Top Drills of 2019
2019 has been wild. Our game has become faster, more skilled and compeititve as ever. We've seen mind blowing goals and saves, and even crowned the St. Louis Blues with their first Stanley Cup in franchise history.
At the minor level, hockey player and coaching development has continued to progress. We're seeing more regimented and structured youth associations, an increase in coaches meetings and investment into tools that raise the standard of teaching for our players. All in all, our sport has made great progress in growing the game and developing systems that reinforce proper preparation, development and most importantly, fun.
At CoachThem, our team has had the best year yet. We've had the opportunity to work with great organizations like the NHL Coaches Association and The Coaches Site. We've welcomed new members to our team to streamline the development of our platform and most importantly, we've grown our CoachThem community to over 7,000 coaches across the globe!
It's safe to say that 2019 has been a great success in the hockey world, and to wrap things up, we put together a list of CoachThem's Top 5 Drills of 2019 - based on the feedback from YOU and the CoachThem community.
Enjoy!
5. Maine Chipper
Tags: 2 vs 0, Skating
Starting off our list is the chip and go, Maine Chipper. This is a great 2 vs 0 drill to kick off your practice. It works in a give-and-go up the boards and can be used as a secondary zone entry strategy against your opposition.
Both sides leave at same time on whistle

F1 and F2

leave together with a give and go

F1 chips puck to F2

from the oppostie end line

F2 skates in and shoots, F1 drives the net, middle lane for a rebound
4. Team Canada Wannabe
Tags: Flow, Shooting
Coach, player, parent or just a pure specator, there's a high chance that you've seen this variation of the "Team Canada Warm Up". It's a quality flow drill that will work on a quick transition and breakaway speed!
X1

starts with puck, skates in for a shot on goal

X1

picks up loose puck in corner and skates up the middle

X2 swings towards the boards and receives pass from X1
X3 skates across the neutral zone and receives pass from X2
X3 then skates down for a shot on goal, keeps the drill continuous by picking up another loose puck in the corner
3. Jon Goyens: D Up Basic
Tags: Defence, Screens / Tips / Deflections, Transtions
As featured in our extremely popular blog feature Transitions for Explosive Offense, Jon Goyens brought his best with the D Up Basic. It's the first step in an excellent transition sequence and gets your team thinking about the attack when a loose puck finds it's way in the "transition zone".
D backwards pivots retrieves puck, pass to F1

inside dots

F1

shoot in stride, hide release point, after shot indirect pass low to high to

D for 1T or slide blue & shoot

F1

head to net for screen & tip, depth is important
Variation B
D repeats D up pass with F2, F1 tags up in middle, enter 2 v 0. On entry F can look for D
2.

Choose Your Gap
Tags: 1 vs 1, Defence, Gap Control
Let's face it... gap control is tough to teach and more difficult to master. CoachThem's own Mike Weaver came up with this drill while teaching players in his hockey school Defence First. Mike says, "I'd rather my defence get beat while having a good gap, than give too much space and open up the offensive zone" and this drill reinforces the point of taking control of open ice.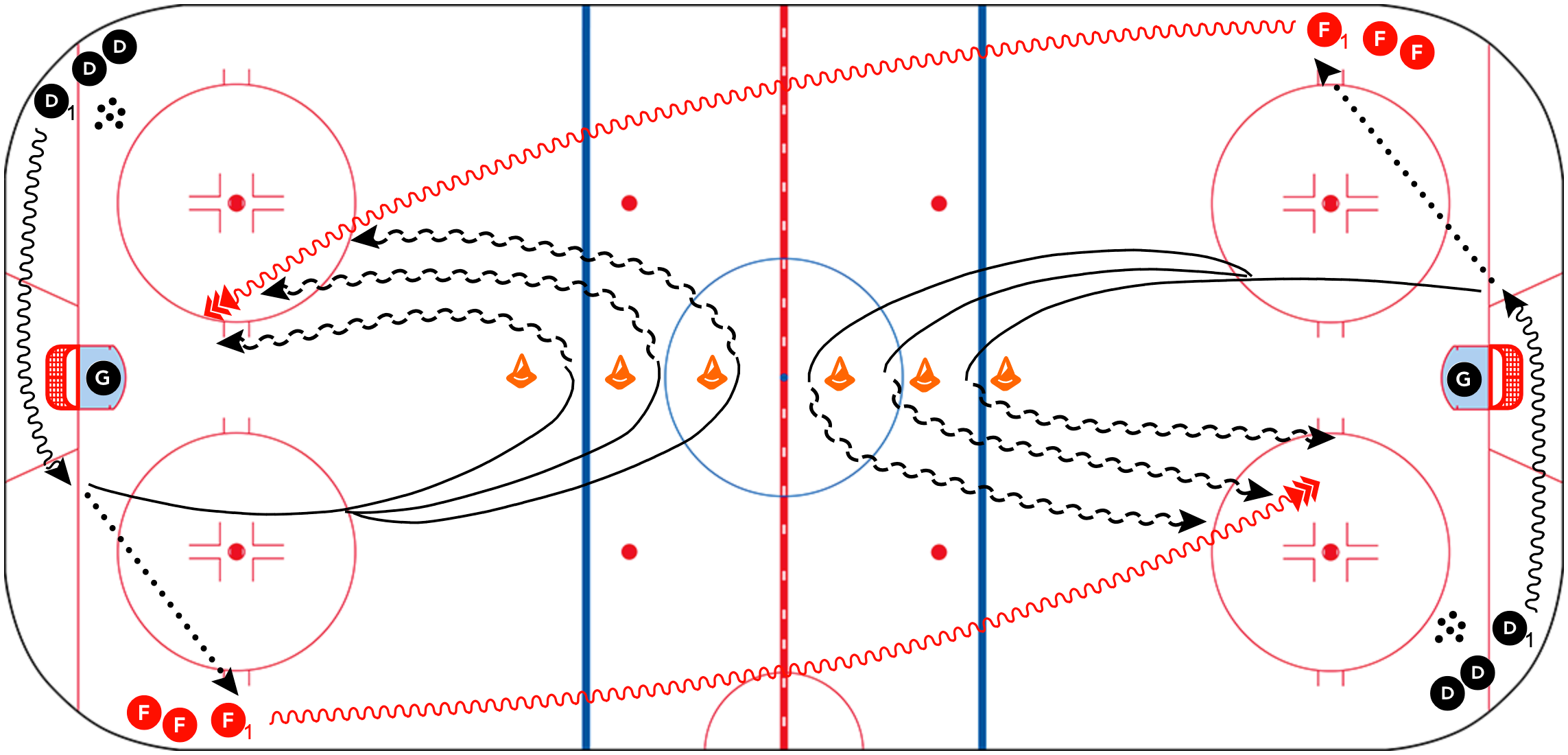 D1 starts with puck
F1

starts on hashmarks. Can't move until receives pass

On whistle D1 carries puck and passes to F1
F1 skates full speed down ice and takes D1 from other end on 1 on 1
D1 after passing, skates hard and chooses which pylon to go around

Objective is to go to the 3rd pylon (furthest)
1. Pat Burns
Tags: Breakouts, Forecheck
At the top our list, the infamous Pat Burns breakout progression sits comfortably above the rest! This drill tests your team's breakout system under various levels of pressure. Try different exit strategies with pressure from F1, F2 and F3 and develop a system that works for your team.
F1 gains redline and chips puck deep, then forechecks. F1 route vs 5 Blue

players who then breakout puck

Once the puck is broken out,

Blue

passes the puck to the F2 who gains the red line and chips the puck deep and forechecks with F1

Once 2nd puck is broken out,

Blue player passes the puck to F3 who gains the red line and dumps the puck deep, both D join the F's and play 5 vs 5
All CoachThem Pro and Association users can find drills the above in our drill Marketplace and add them directly to their custom practice plans!
If you're looking to improve how you coach, sign up for a 10-Day Free Trial of our online drill drawing and practice planning tool HERE !
#CoachThisWay