Well, just like that, the season has come to an end, which means… it's time to start preparing for the next!
In efforts to do so, we'd like to introduce Mitch Giguere, CHPC, once again, who is collaborating with CoachThem, drawing hockey drills and providing insight throughout some of our upcoming segments.
A bit about Mitch; he is the father of four children and is a hockey enthusiast! He sits as Associate Coach for the Carabins at the University of Montreal. Mitch is a former KHL Coach and has obtained his High Performance 2 from Hockey Canada. In addition, he also has an Advanced Coaching Diploma (NCCP4), received through the Canadian Sports Institute… Did someone say powerhouse?
As mentioned above, in collaboration with CoachThem, Mitch will be selecting specific drills found on our hockey drill drawing platform, created by subscribed coaches, and will feature them in our segments throughout the summer. He'll be choosing six drills per segment from the Drill Sharing Group that he's created in collaboration with drawing hockey drills with us, and sharing them, for free, with all of you. Hopefully, you'll see your drill out there!
To begin, let's dig into the transition. It's, of course, a massive part of the game. Not only are teams looking to play faster, but they're also looking for a defenseman who can move the puck tape to tape as quickly as possible and forwards who can maintain their speed in the NZ. If all of this has been executed at a high pace, you'll have a higher percentage of successful entries and more time in the offensive zone, which means optimization of scores.
Without further ado, here are Mitch's top 6 transition drills!
1. Transition: Torpedo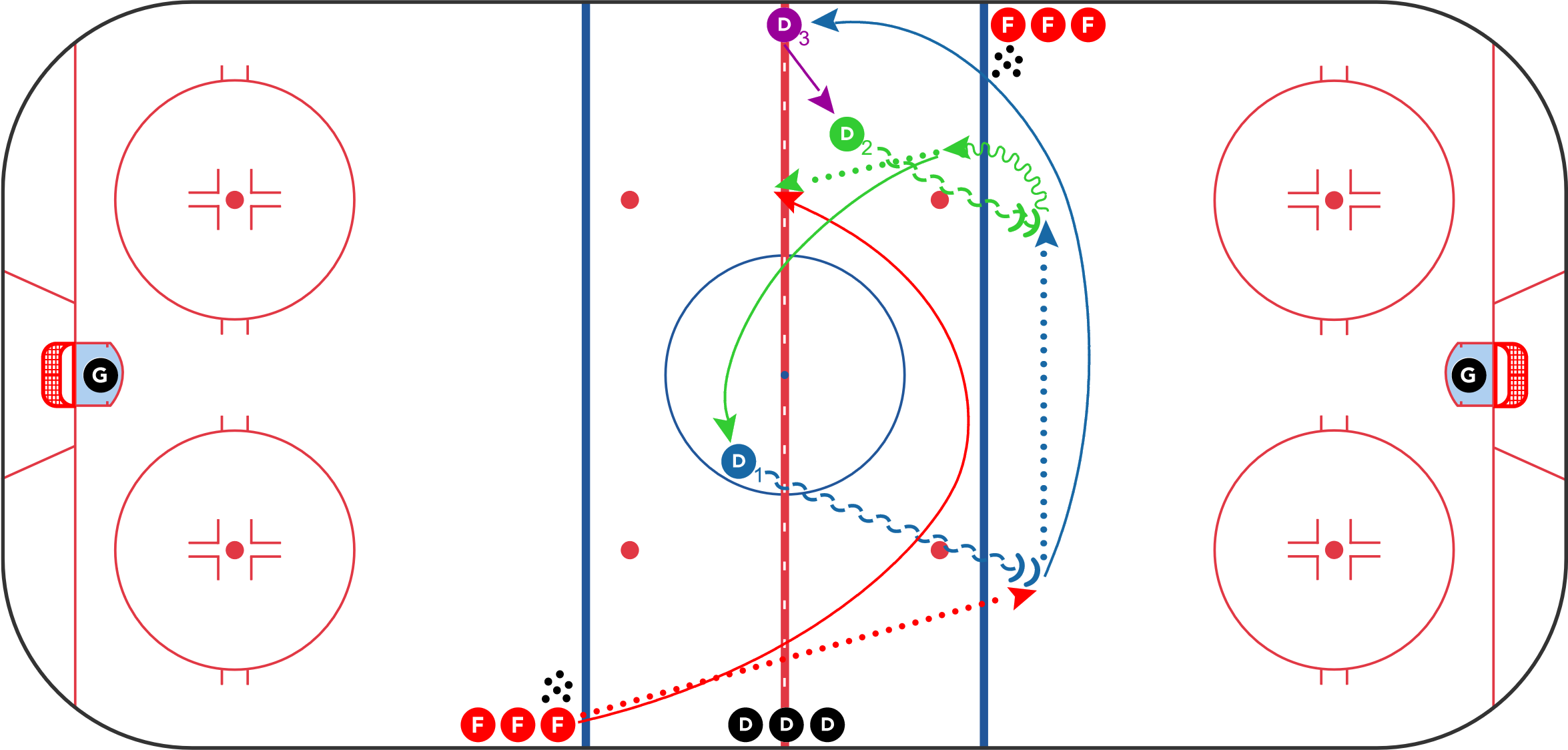 An easy, get-going drill that you can quickly start your practice with. A lot of players are in movement simultaneously, and you can even tell your forwards to choose if they want to go with 1 or 2 players. Defensemen will play as D2 and D1 before moving out of the drill. You can switch things up and ask your D to pass middle instead of on the wall.
2. Transition: Jets Quick Up Area Pass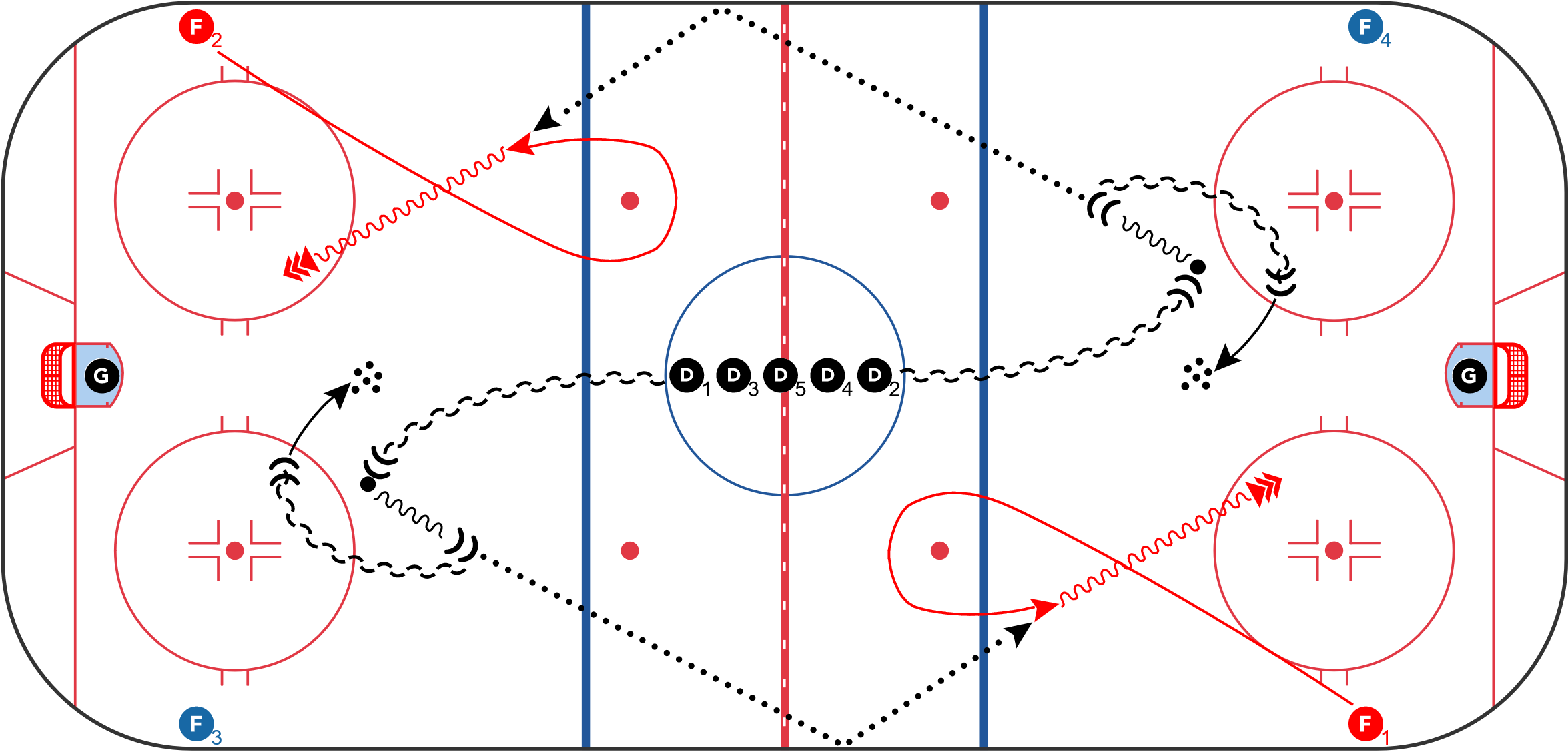 It's not true that all the passes in hockey are tape to tape. What Mitch likes about this one is working on indirect passing. Sometimes, you have somebody in the passing lane, and you can't make a play. These drills allowed your defenseman to work on the indirect pass of the transition. They're getting out of their comfort zone.
3. Transition: D2D Hinge Stretch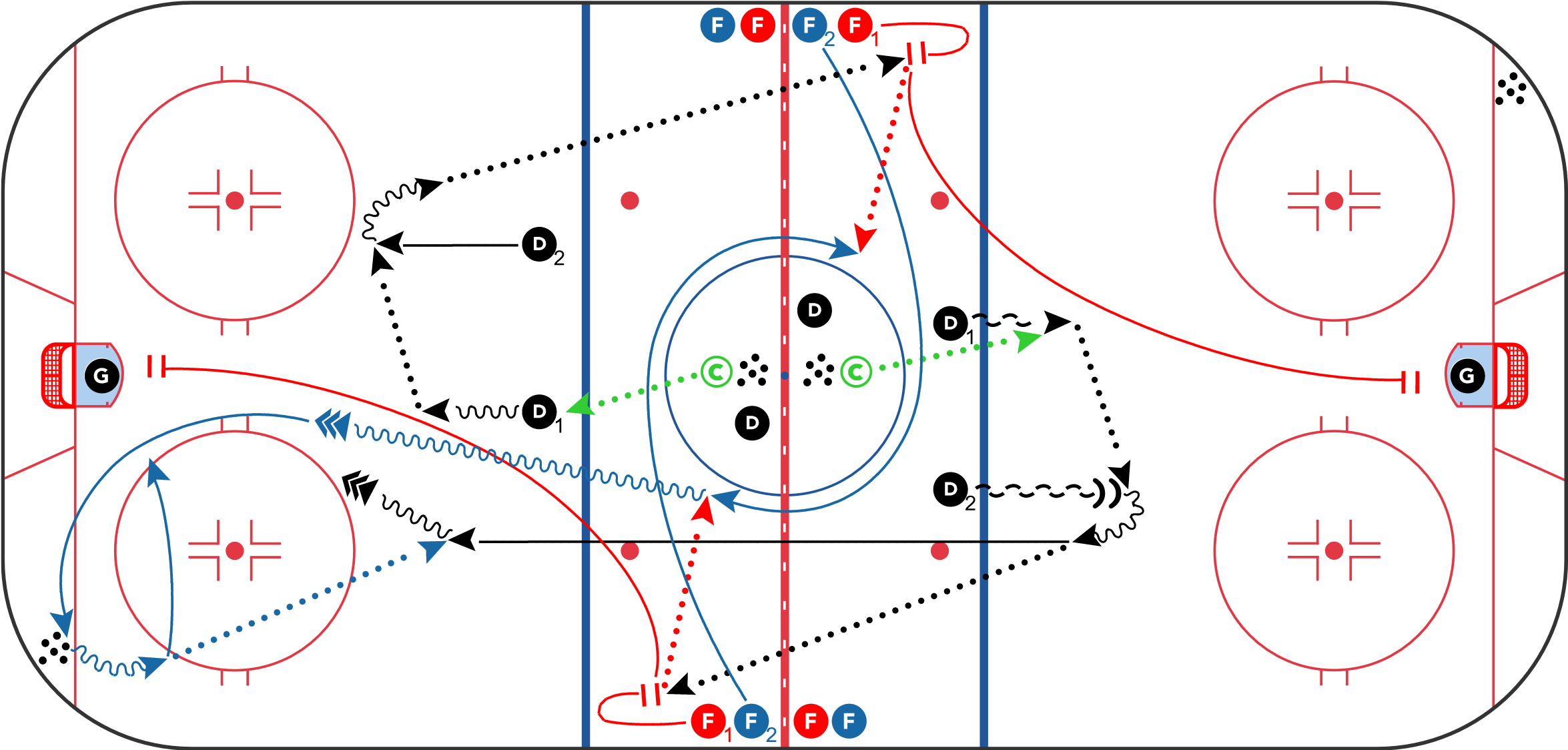 Yeah, we know, a lot of colors and lines. But it's simple if you read and watch at the same time. Working on the hinge allows your team more time against good neutral zone forechecks. D2 will make a quick pass to F1, who posts up on the offensive blue line while F2 is coming around the horn full speed. From there, D2 will join the rush and receive a pass from F2, who goes to the corner to retrieve a puck.
4. Transition: D-Zone Quick Up, 3 Progression 3 in 1 for this drill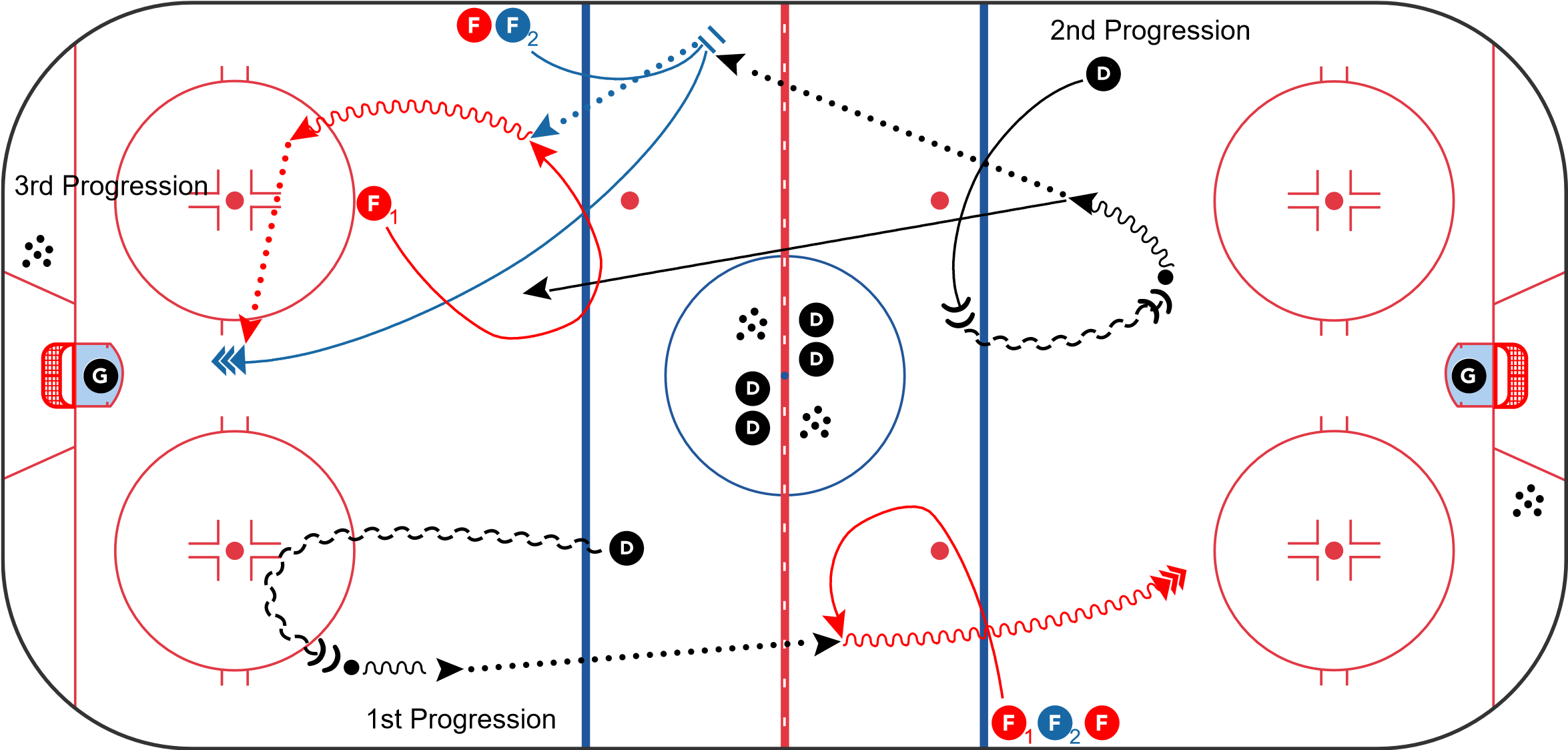 You can quickly start with only the first step and add the third for more movement. It's up to you! You can ask a D to spot a puck for D1 or D1 to place a puck while they're going on the dot. The second and third progressions are more high-paced and work on your transition with post up, close support, and attacking the net. Lots of options to work on here.
5. Transition: 2v2 Regroup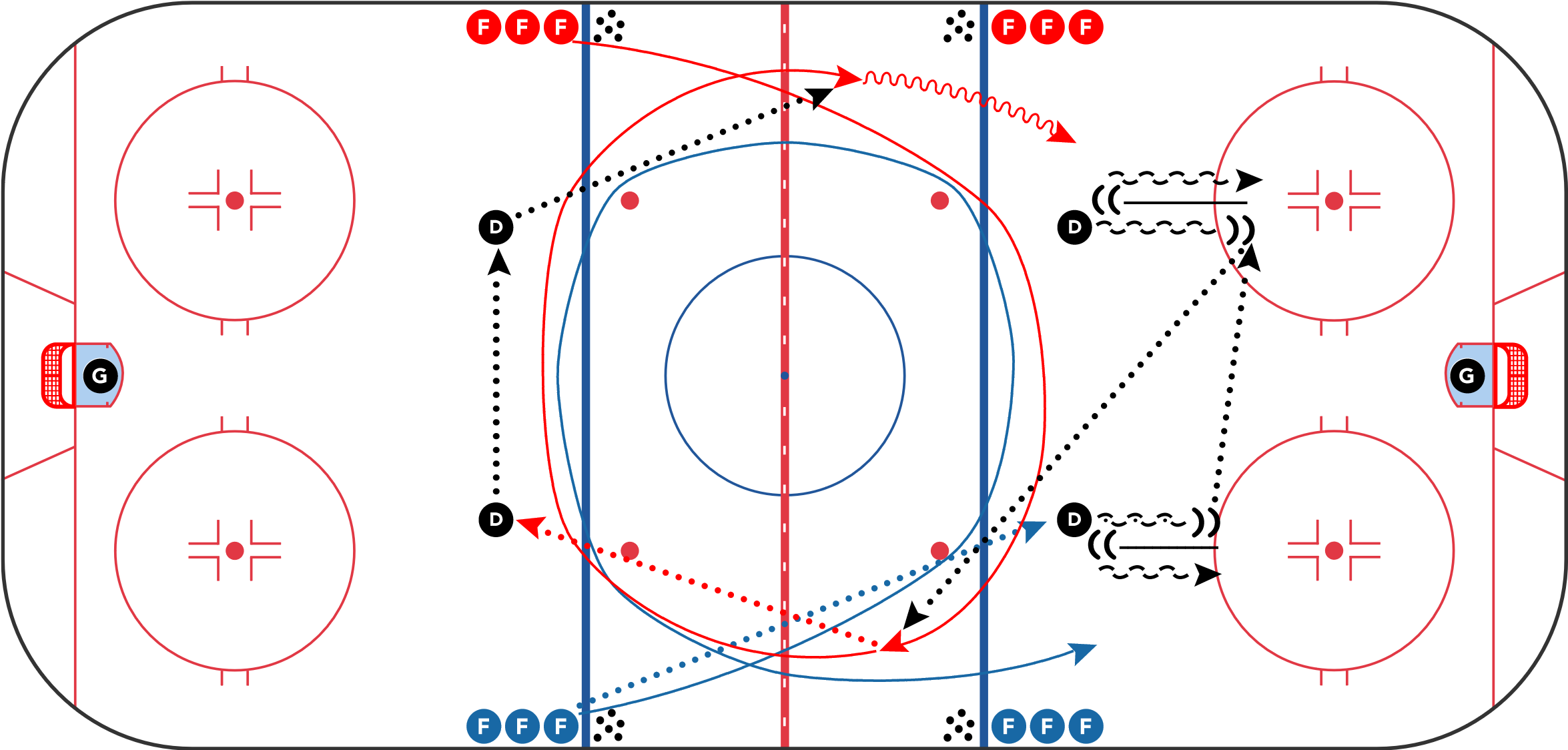 Pretty straightforward with a double regroup, finishing with a 2v2 full ice. The keys here are overspeed and crisp on your passing. At a young age, make sure the defenceman is stepping front to make the pass to the forward. They don't necessarily have the strength to do it while they are on their heels.
6. Transition: SAG New Zealand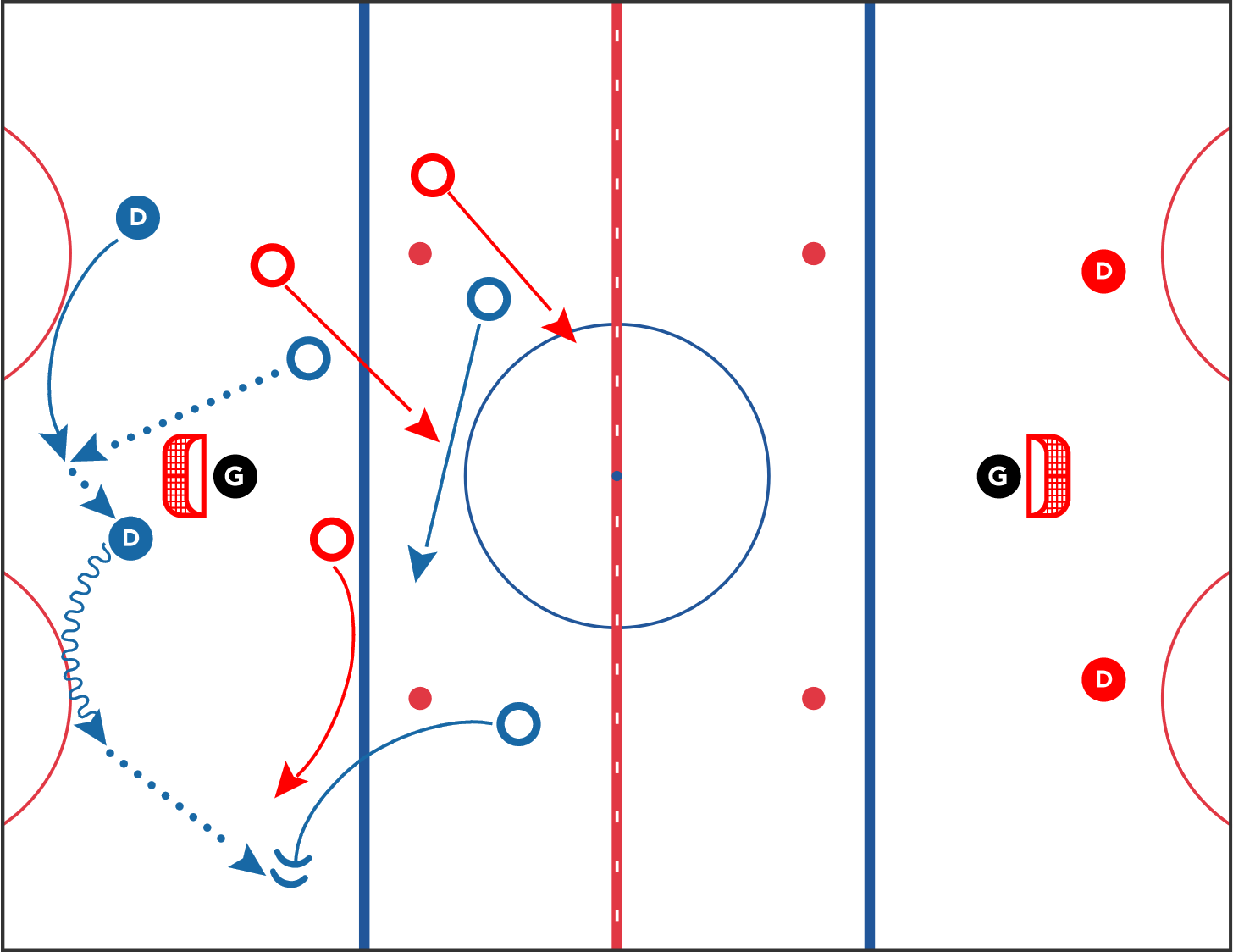 What's better than finishing your practice, or even starting your practice, with a small area game? In a 3v3 in the neutral zone, the team who won the puck must make a pass behind their own goal before attacking.
Written in collaboration with Kelsey Dold & Mitch Giguere
March 30, 2023
Already a CoachThem PRO?
Click to LOGIN to start creating your next drill!
Don't have a CoachThem account?
SIGN UP, or try out our free hockey drill drawing software with a 10 Day FREE Trial!